Stash and Swatch...
Well, Friday was a very exciting day at the mailbox. My knitwerx.com order came in - yay!! Complete with a hand written note and several samples - gotta love that kind of service. Anyhow, these were the goodies waiting for me when I got home from work on Friday - made my day - ah, who am I kidding, made my week!
I'll start with the least exciting item - I like to work my way up. I got some Emu Superwash sock yarn not because I necessarily needed more sock yarn but because they were having a great sale and I thought I would give it a try it. The pics from this morning were terrible (raining out) so it looks pretty blue but it's actually a dark green mix for man socks.
They also had a great bargain price on Silky Wool so I got enough to make myself something in purple. This might end up being a Clapotis but I'm not 100% sure yet - I really would like a chocolate brown one after some shopping I did late last week. I got a brown tweed skirt that would look really nice with some kind of brown wrap. Hmmm...I could always have a purple one AND a brown one.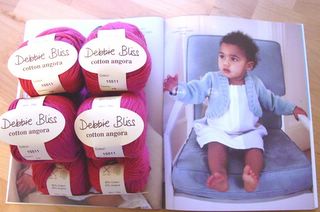 Finally, I got some DB Cotton Angora in "Raspberry" to make a couple of baby sweaters for Xmas. Everyone seems to be having little girls and the yarn color is perfect - not quite as popsicle pink as the photo but close. I'm planning to make 2 Poppies from her Cotton Angora book. So that was it from knitwerx but there is a woolworks order that should be here next week that has some stuff for me(!) and will be enough to keep me busy through the Spring for certain.
So, even with all the new yarn in the house, I did manage to stop myself from casting on Xmas presents and did a bit of work on my purple wool socks. I imagine this will get tossed aside for my summer knitting now to be picked up sometime later in the season and finished for fall weather. I'm turning the heel on sock #1...
I also took the time this weekend to swatch my Calmer for the Nothing But a T-shirt KAL. I've got to admit, I cannot get guage on this stuff. I went all the way up to 6mm needles and I'm still way too tight in horizontal guage. I ended up with 22X28 on 6mm but I do like the drape at that size so I think the plan for me is to get out the calculator tonight and start doing some "figuring" to make this work. There is no way I'm going to get down to 19 stitches. My only concern with going this route is that as I get more comfortable with the yarn, my guage may loosen up a little. Oh well...we'll see what happens. I'm loving the calmer despite guage woes - it's just so darn soft.
As far as the t-shirt itself goes, I'm planning to cast on at craft night tonight if I get time. Can you believe I've had 2 friends ask me to teach them to knit in the past 2 weeks?! They're both going to be there tonight so I might be doing more helping than knitting today. I love when someone wants to learn though! I've got another friend who was knitting casually almost as obsessed as I am now...it's highly contagious.
Right...so...back to the Nothing But a T-shirt KAL. I'm planning some "customizations" to the t-shirt design. I didn't have any contrasting Calmer (or a good idea) for a logo on the t-shirt so I decided to add a scoop neck - I think I'll get more wear out of a scoop neck and without the logo, it will be something to break up all this bright purple. I've also decided to add ribbing to the waist, armbands and neckline - the scoop neck may need a bit of ribbing to keep it in and I just like the look of it - saves me whip stitching later as well - my hand stitching is atrocious. So, I'll let you know how it goes tonight with the calculator - fingers crossed that I don't muck it up too badly.